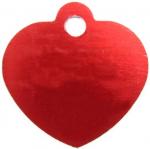 Here at Ketchum, we specialize in manufacturing high-quality identification tags for all kinds of purposes. From firefighter accountability tags to rabies tags, we think it's important to craft durable, long-lasting ID tags that can often mean the difference between life and death for both animals and people.
When it comes to pet ID tags in particular, people are often confused about what information to include on the small tag that gets attached to the pet's collar. We can help clear up the wonderment for you, so you're not overloading your pet's neck with multiple tags to get all of their necessary information on them.
Your Phone Number
The first thing that most people do when they find a lost dog is look around to see if there's any piece of identification on it that lists a phone number. When it comes to pets, most people are very understanding of the fact that they are a member of a family somewhere that is probably frantically looking for them.
Your phone number should be easy to read and in large enough print that people will see it immediately. Always include your area code, as your dog may end up traveling farther than you think he ever could. After all, the goal is to get your pet home safely if he ever gets lost, so your phone number may very well be the most important piece of information on animal ID tags.
Your Name
Including your name on your pet's tag will help someone who finds him make sure they reach the right person at the number listed when they decide to call it. If you aren't comfortable with putting your first and last name on the tag, simply use your last name.
Listing your pet's name on his ID tag can be a bit unsafe – while on the one hand, a lost dog may be comforted by the sound of its own name, even if it's coming from someone else's mouth, on the other hand, listing your pet's name would make it that much easier for someone who finds your pet to steal it. Ultimately, including your pet's name on his ID tag is your decision and there is no real set standard for it.
City and State
It's a good idea to at least include your city and state location on your pet's ID tag, rather than your whole address. You don't want people to stop by with your dog, and most are likely to call first before doing so anyway, but including a city and state will notify whoever finds your pet just how far the animal has traveled and how much additional help it may or may not need beyond simply taking it in and calling the owner.
Medical Information
If your pet requires any special medical attention, it's extremely important to include it on his ID tag. That way, if he runs away from home, whoever finds him will know to either take him to a vet or return him to his owner immediately.
Some pet owners even include the phrase "Needs Medication" or "Special Medical Needs" on their pet's tags regardless of whether the animal actually has a health issue or not. Most people will know to call the owner or a veterinary office immediately if they find a dog or cat with this phrase on its tag. It's an additional insurance that if your pet is found, you will likely be notified immediately.
While there is no real industry standard for the information that should be included on your pet ID tags, these simple things can mean the difference between your pet being returned to you or going missing forever. And don't forget – pet ID tags aren't just for dogs, we make cat tags, as well!