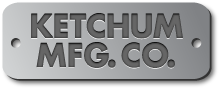 Hello, everyone!
Welcome to the brand new Ketchum Mfg. Co. Blog! We are excited to have a place now to post our thoughts, reactions, stories and general wonderments to share with all of you, our loyal customers and fans.
We're also excited to be making a push with our social media this year – before you know it, you'll see us on Facebook, Twitter and Google+ so that we can constantly interact with the most important people to us – YOU! It will give you the chance to get to know us, and us the chance to get to know you, as well.
Until we get everything up and fully running, be sure to check out our website and all of the products that we've always brought you, straight from our historic home in Upstate New York.
Thanks for stopping by – and stay tuned for more!